Cable Reef dive site, Aqaba, Jordan
Name: Cable Reef Aqaba dive site
Dive: Reef
Depth: max – 40 meters / 130 feet
Access: shore and boat
Visibility: 10-30 meters
Snorkeling: available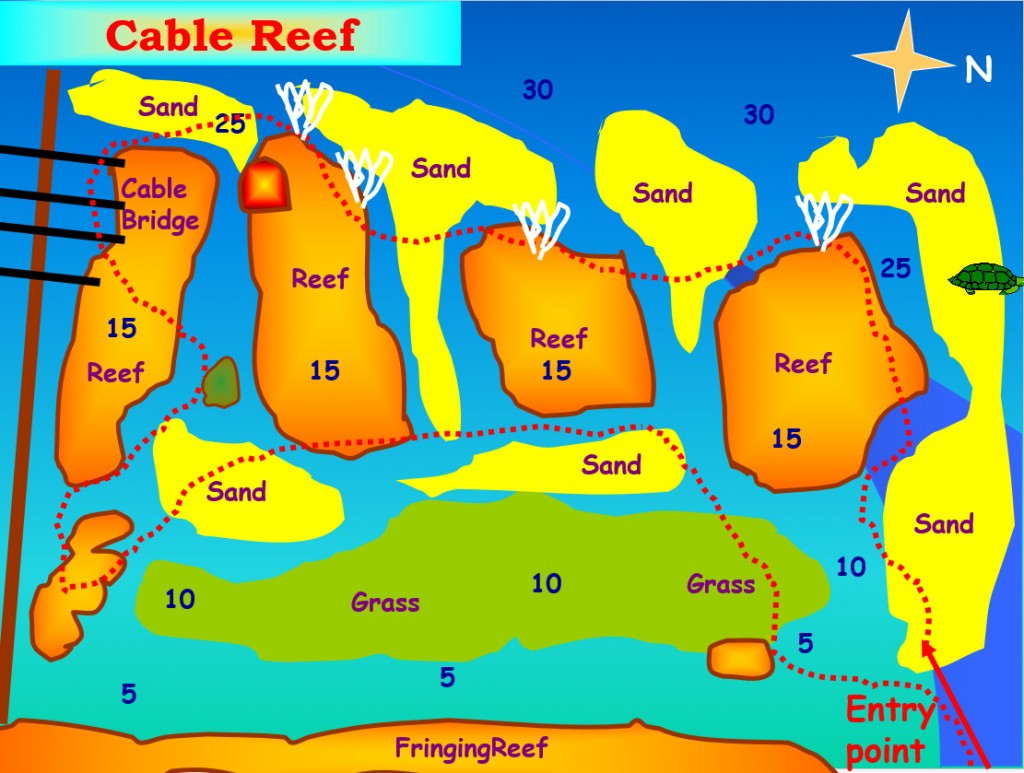 Cable reef dive site created in 1996. This site lies between Black Rock and Rainbow Reef. After electrical cables laid to Egypt.
There are four cables running out over the seabed. The two cables to the North run through a deep canyon. Here the reef has been shored up on either side to prevent it collapsing on the cables. Large steel netting covers the reef to the North and South, coral is now growing through this. Large metal tubes straddle the canyon preventing collapse.
After you start the dive, head north down to a deep galley where two big walls on the side of the reef separated by the pipes. Keep going along the reef and try to a spot a Spanish Dancers. The hard corals are very dense and wealth and provide a perfect habitat for lots of shrimps and lobsters. Also because of its opening and depth, you might see some Napoleon crossing!.
There are now a habitat for soft corals and sponges, you might also spot an octopus or Spotted Eagle Ray here.
It is a great place for photos, because even at a depth of 30 meters a lot of sunlight falls in here. The name Cable Reef comes from the fact that from the ground here comes a huge cable, encased in stones and mesh. Electricity cables supplies practically all Jordan with electricity. You can also have a chance to found stingrays here.
Learn more about dive sites in Aqaba.